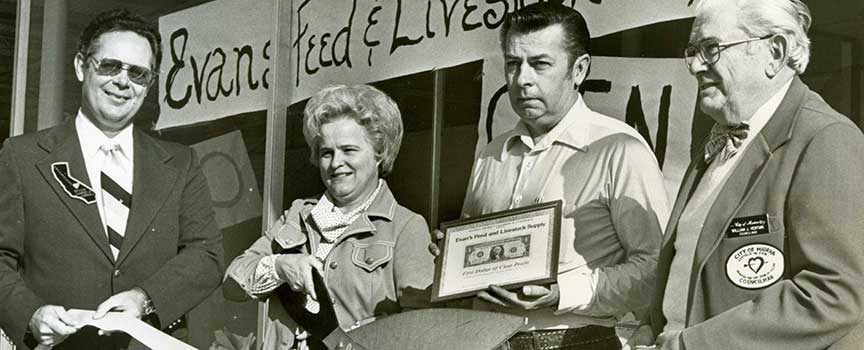 Our history Throughout The Years.
If you've farmed or ranched in the Central Valley for long, you probably know about Dale and Melba Evans. They started Evans Feed and Livestock Supply on November 20, 1978 in Madera, California. Dale had worked 23 years at Teco, a leading feed and livestock supply company, prior to starting Evans Feed.
After six years of success, Dale went ahead and expanded Evans Feed & Livestock Supply in 1984 and again in 2002. Today, their son Roger follows in the footsteps of Dale and Melba, continuing the strong Evans' legacy. Evans Feed has become the Valley's feed and livestock supply store of choice with three locations in Madera, Chowchilla and Porterville.
At Evans Feed, we know we'd be nothing without you, our loyal customers. That's why customer service is always job number one. We'll get you what you want, when you want it, at a price that won't break the bank. Plus, our friendly store associates will always serve you with a smile on their face.
Treating folks like family is what has made us successful for so long. In fact, we're proud to say that many of our ranching and farming families have come to us for three or even four generations!
But we're not just your local feed and supply store, we're part of your community. Evans Feed actively supports FFA and 4H chapters to teach kids leadership, personal development and career success through agricultural education.
November 1978:
Dale and Melba Evans started the business with half the building and a 3/4 ton pickup.
March 1980:
Roger Evans came on board after working for Walco and managing two other stores.
1982:
Bought their first 2½ ton truck, leased the whole building and lot, and started carrying gates. We celebrated with cigars when we averaged $1,000/day
1983:
Bought their first new pickup and a 16' trailer to make deliveries
1985:
Began the liquid feed supplement business and operating as a Purina dealership. Also, for the first time, bought  two new trucks and started the daily delivery business, selling sanitation supplies and pharmaceuticals.
1998:
Our Porterville location opened on West Orange Avenue.
2002:
Our Chowchilla location opened its doors on West Robertson Boulevard.

"I'm ridin' for the brand" Jack Hannah likes to say about his partnership with Evans Feed. Singer-songwriter for the internationally acclaimed western singing group, The Sons of the San Joaquin, Jack wrote and performs the catchy Evans jingle. His love for the western traditions and the history of California make him a perfect choice to tell the Evans story in music and words.
"Don't See What You're Looking for? Call us at any of our locations"